2019 World Ayahuasca Conference
June 2, 2019
The indigenous spiritual authorities participating in the 2019 Ayahuasca World Conference in Girona, Catalonia (Spain), make a call for the defense of Mother Earth and life to governments, human rights and development organizations, the United Nations, and the citizens and civil society of all countries on behalf of the indigenous peoples and nations of the Amazon Basin.
We denounce the violation of fundamental rights, threats to the Amazonian territories and the systematic killing of human rights and environment defenders in countries such as Colombia, Brazil, Peru, Ecuador, Venezuela and Bolivia.
We demand an end to all extractive and mega infrastructure projects. We reject projects with profound socio-environmental and cultural impact such as the Transoceanic Railroad, which aims to connect the Pacific Ocean with the Atlantic, crossing Amazon jungles and ecosystems that are key for the survival of sacred waters basins, uncontacted peoples, and the entire planet.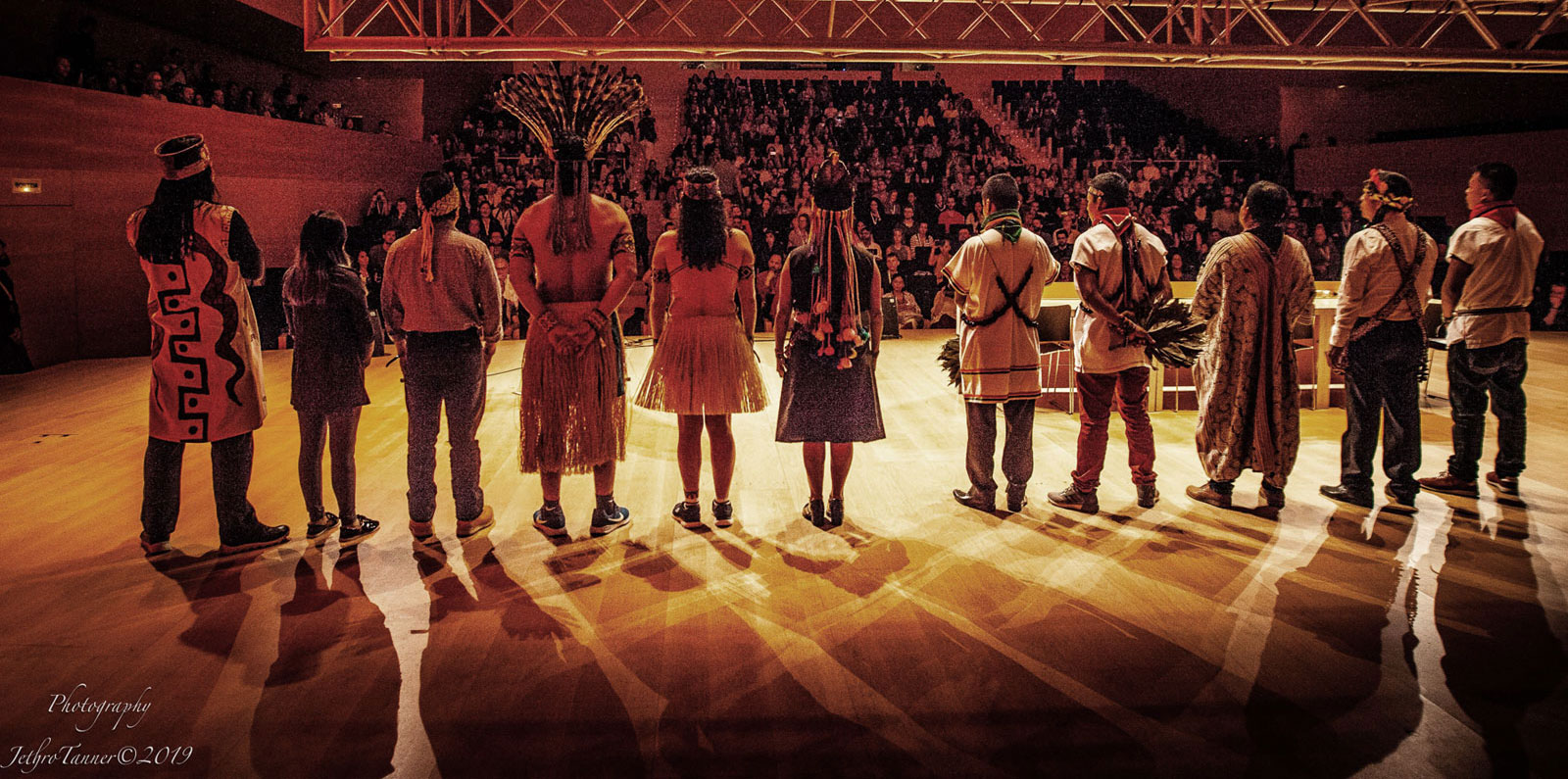 We recognize the continuous struggle of indigenous women who are knowledge keepers of the ancestral medicine, weavers and guardians of Mother Earth, and creators of artistic expressions that are the heritage of native peoples.
We honor the ancestral spiritual knowledge that is a heritage of the native peoples who are the original practitioners of the medicine called Dispani Hew, Kamarampi, Nixipae, Uni, Ambiwaska, Uni Nishi, Datem and Yauna, also known worldwide as Yagé or Ayahuasca, and we reject indiscriminate commercialization and bad practices that violate the ethical and spiritual teachings of the lineages of Amazonian wisdom keepers.
We express gratitude to the World Ayahuasca Conference and we will continue supporting the work of the organizers. At the same time, as indigenous peoples, we call for a gathering of spiritual authorities and representatives of the organizations of the Amazon basin on a date to be defined.
In the name of the spiritual ancestry of indigenous peoples and of all defenders of life, we call for the creation of a global alliance of all movements and peoples to stop climate change and to protect the rights of Mother Earth and all living beings.
Signatories: Representatives and elders of distinct indigenous peoples of the Amazon Basin – Ashaninka, Awajun, Huni Kuin, Inga, Kashinawa, Puyanawa, Sapara, Shipibo and Yawanawa – as well as the regional organizations of COICA and UMIYAC. With the endorsement and support of ICEERS and Amazon Watch.
PDF Download
English | Catalan | Spanish | Portuguese | Slovenian | Italian